Published in the New York Times Op-Ed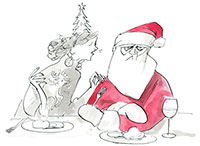 You arrive for Christmas dinner. Your mother has left your father for a woman and you are meeting her for the first time.
Do you say, "Hello, it's nice to meet you"?"
Do you tweet, " #MomIsGay. She's going to hell"?
Do you text your best friend, "If I survive Xmas, it will be a miracle"?