Published in the New York Times SundayReview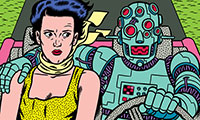 In inventing a self-driving car, Google has in one fell swoop struck a blow at masculinity, female empowerment, romance, sex and action heroes. It may even violate two of our three inalienable rights — liberty and the pursuit of happiness.
But let's not get negative.