New York Times Best Seller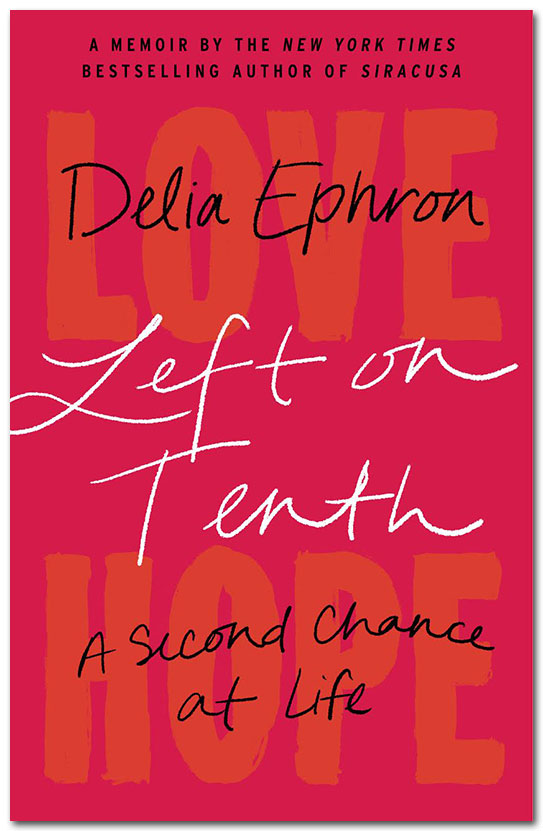 If you are in Manhattan, traveling downtown on Fifth Avenue or Seventh Avenue, you can turn only left on Tenth Street. It's a one-way street, west to east. Left on Tenth is my way home. I was left on Tenth when my husband died, and after that, life took many left turns. Some perilous, some wondrous. This book is about all of them.


Advance Praise–
Delia Ephron's stunning Left on Tenth will make you believe in love again, and also in miracles. And it's so very, very funny.
—Sarah Dunn, author of The Arrangements
Starred review from Publisher's Weekly

Left on Tenth

balances profound sorrow with unconditional love...
Ephron holds nothing back...
...a radiant account of the "many left turns, some perilous, some wondrous" that her life took.

—Publisher's Weekly
| | |
| --- | --- |
| Starred review from | |

Left on Tenth

Ephron should be called the Queen of Second Chances, and long may she reign...
Her endurance is nothing short of mind boggling, her survival to tell the tale even more miraculous. Simultaneously spiritually uplifting and emotionally draining, Ephron's account of triumphing over life's greatest challenges is itself a tour de force.

—Booklist
Published in the New York Times


It's not yet Christmas or Hanukkah or Kwanzaa, and Eid al-Fitr is past. But three of those holidays are looming, waiting to cheer you, stress you out or otherwise consume your life. I have no idea what you want to give or receive next month, but I have a good suggestion, and it will cost ...