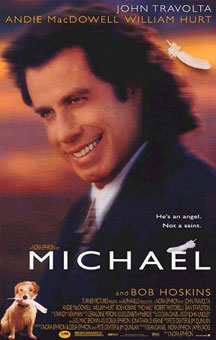 There are angels among us, and they like lots of sugar in their coffee, in co-writer Delia Ephron's comic fantasy Michael.
Vartan Malt (Bob Hoskins) is the editor of a tabloid called the National Mirror that specializes in unlikely stories about celebrities and frankly unbelievable tales about ordinary folks. When Malt gets word that a woman is supposedly harboring an angel in a small town in Iowa, he figures that this might be right up the Mirror's alley, so he sends out three people to get the story -- Frank Quinlan (William Hurt), a reporter whose career has hit the skids; Huey Discoll (Robert Pastorelli), a photographer on the verge of losing his job (even though he owns the Mirror's mascot, Sparky The Wonder Dog); and Dorothy Winters (Andie MacDowell), a self-styled "angel expert."
They arrive at the rooming house of Patsy Millband (Jean Stapleton), who informs them that she does indeed have an angel for a tenant, and introduces them to Michael (John Travolta). Michael has wings like an angel, but the resemblance ends there; Michael loves cigarettes, has an uncontrollable sweet tooth (and a pot belly to match), tends to use a large number of non-angelic phrases, is not much on personal hygiene, and likes to hang out with the ladies. Michael informs his visitors that in Heaven, an angel is allowed a certain number of "vacations" on Earth, and he's in the midst of one now; trouble is, this is the last one he's entitled to, and he wants to make the most of it. Frank and Huey then stumble on a great story idea -- if Michael wants to have some fun, why not take him to Chicago, where he can really kick up his heels?