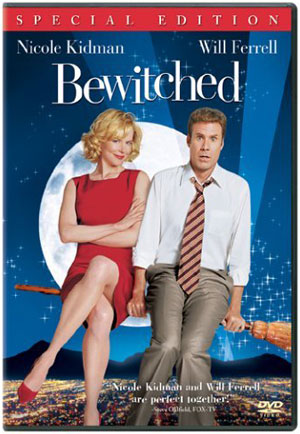 Delia Ephron co-wrote this updated adaptation of a classic situation comedy that also casts a satirical eye on the entertainment industry.
Jack Wyatt (Will Ferrell) is a movie star whose career has been going into a slow and steady decline. Desperate for a project that will give his reputation a jump start, Jack agrees to star in a film version of the once-popular television series Bewitched as hapless hubby Darrin Stephens, under the condition that an unknown actress be cast as the female lead so he won't be upstaged. After auditioning dozens of women who fail to make the grade, Jack meets lovely and charming Isabel Bigelow (Nicole Kidman), and is immediately certain she's the perfect choice to play witch-turned-housewife Samantha. However, there's one thing neither Jack nor the producers of the film know -- Isabel really is a witch, and while she's been trying to get along without her powers to better fit in among mortals, she will use her special talents when need be.
The film also stars Michael Caine as Isabel's father, Nigel, Shirley MacLaine as Iris Smythson (the actress hired to play Endora), and Jason Schwartzman as Jack's agent.