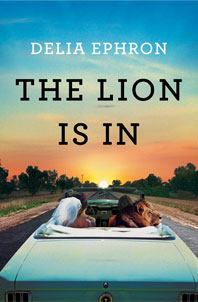 This book happened because of an anxiety attack.
I was worried about something… something that I knew wasn't going to be resolved for a while, and I thought how can I ever get through this? And that night when I went to sleep, I had a dream.
A most vivid dream about three women and a lion. I knew exactly how the women were dressed probably because I had been thinking about nothing but women and clothes because of our play Love Loss and What I Wore.
Lana was wearing ripped jeans, a t-shirt and those flat plastic shoes called Jellies. Tracee was in a wedding dress and veil. I knew Lana and Tracee were in their twenties, best friends from childhood, and there was an older women with them, who, when I woke up, I named Rita. Lana, Tracee and Rita were in a strange place—a roadhouse, perhaps a seedy nightclub, built of all different construction materials hammered every which way. Living inside this odd looking roadhouse by the side of a rural highway in North Carolina (a state I had never visited in my life) was the bar's mascot—Marcel, the lion.
When I woke up, I wondered for a second if what I dreamed was real. Then I knew it was my next novel. For the two years I lived inside this world -- three women on the run, each with secrets, each with transgressions, real and imagined -- and the lion who would change their lives.
When I write, I can block out anything, well, almost everything—and writing this, living in this world, got me calmly through that anxiety attack, a situation resolved in a month, and several more actually. It took two years to write the book.