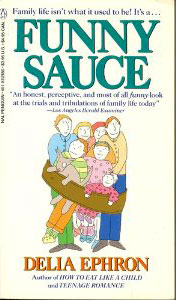 From Publishers Weekly
The humorist who explained How to Eat Like a Child and Teenage Romance presents a third winner, a collection of 12 essays on the modern extended family. Today the group includes "Us, The Ex, The Ex's New Mate, The New Mate's Ex, and The Kids."
With her inimitable wit, Ephron describes situations created by joint custody, by wily kids trying to take advantage of both step- and natural parents ("My own mother doesn't put funny sauce on chicken!"). She also discloses aspects of relationships among the re-wed adults, sharing child care and behaving civilly to each other, while privately criticizing or resenting former spouses and their new loves ("We never went to Paris while we were married"). The book will make readers laugh loudly, but probably wince too as they recognize their households, joined like jigsaw puzzles, with visible breaks between the pieces.