Published in the New York Times Sunday Review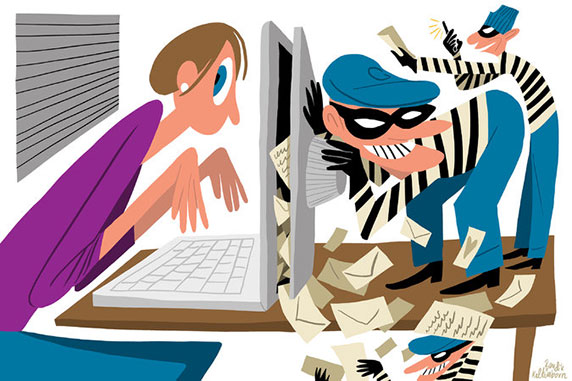 THERE is probably nothing about me that is not in the hands of hackers.
First, JPMorgan Chase, where I have a bank account, got hacked, then Sony, where I have worked as a screenwriter, then Morgan Stanley, where I have a brokerage account, then Anthem Blue Cross, which has my medical information.
When Sony's computer system was breached last Thanksgiving and hackers stole not only the data of its employees but also personal emails, Sony offered "victims" a year's security protection with an A-plus-rated security company, AllClear ID Alert Network.
To get the service I had to register. I called. No one answered. I left a message. A day later, when I hadn't received a return call, I phoned again. This violates a rule I live by — people begin as they mean to continue — which was useful in predicting bad boyfriends but which I now apply to all new relationships, even with companies. To wit, if your A-plus-rated security company doesn't call back, perhaps it is not A-plus. On the second try, however, I got a helpful representative who signed me up, and in a spylike arrangement, I recorded a secret sentence. If they called me, they would play the sentence, and I would know it was them and not hackers. Although, if they were hacked, wouldn't the hackers have the recording, too? Still, it made sense at the time.
I did not write down the sentence. I didn't put it in my computer, where I could find it in an instant. That didn't seem smart, hack-wise. I have no idea what it is. A few days after I made this arrangement with AllClear, I got a call from them around dinnertime. "Did you leave a message?" the man asked. "Yes," I said. He asked me to verify some information. I said, "You said you were going to play a secret sentence," and hung up the phone. I would like to say I slammed down the phone, but pushing a button on the phone does not translate as slamming, just one of the many emotional experiences technology is depriving us of.
The truth is, the thing that freaked me out most about the Sony hacking was not the theft of my Social Security number but the capture and exposure of personal email. Apparently I would rather lose all my money than be humiliated. I use email instead of the phone, to stay in intimate touch with friends many time zones away and to do a certain amount of, how to put this, gossiping.
Exposure of my emails would reveal not only deep fears and worries, but also my shallow personality.
Since the Sony hacking, I say less in personal emails, and much less in professional ones. If I refer to someone who has a high profile I use initials, which is sort of like hiding your valuables in your underwear drawer and assuming a robber would never think to look there. If I'm writing to someone whose cloud a hacker might fancy, I am less cozy, which is a bit like downgrading a close friend to an acquaintance.
I am certain this caution is temporary, and not only because privacy as an illusion is hard to accept.
A couple of times a year, I give up sugar. After three weeks, I brag to everyone about how much better I feel, and the week after that I take a nibble of chocolate, and the next day wolf an entire candy bar. I love email as much as sugar. I'm addicted to it. Soon I'll be confiding my anxieties, and the next thing you know I'll be gossiping again. Although I should say that, as a writer, I think of gossip as the serious dissecting of other people's psychology and necessary to my art. But suppose my iPhone is hacked, as my new security company so helpfully predicts is inevitable for us all. What if someone takes over my account and tweets that I don't love America? Or that I hate dogs?
You know what? I need a Valium.
It occurs to me that who is really going to benefit from all this hacking is the drug companies. How ironic is that?
published in the New York Times Sunday Review